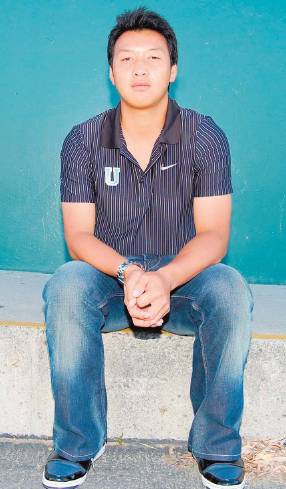 Graeme's former student Ryan Cheung was recently voted MVP.
Ryan's senior year resume for the University High boys tennis team was overwhelmingly impressive. First and foremost, he swept his three sets at No. 1 singles in University's 17-1 win over Santa Barbara in the CIF Division I title match at the Claremont Club.
As the No. 1 singles and doubles player, he helped the Trojans finish second at the All-American Tournament and he reached the finals of the doubles event at the Ojai Valley tournament with partner and fellow all-city player Kona Luu to secure the Griggs Cup (overall team points leader) for University.
Cheung and all-city player Reo Asami won the Pacific Coast League doubles title and made it to the CIF individual doubles tourney semifinals. Cheung's losses at Ojai and in the CIF tourney (both in doubles) were his only two of the season. He was also named the MVP of the Pacific Coast League and was the Orange County Register's player of the year.
But, Cheung who is ranked No. 2 in the nation in the USTA's boys 18-andunder doubles rankings, didn't just win, he set the tone for University all season long. And he looked forward to that challenge. That is why he is the 2010 Irvine World News all-city boys tennis player of the year.
We had a lot of guys step up, evolve and play great this year, University Coach John Kessler said. But the key to everything was Ryan. What that means is that when we played the top teams like CdM or Peninsula or Mira Costa, their top kids didn't think they could beat us because Ryan would come out and dominate.
He played one kid that had just won three tournaments in a row. Ryan beat him in 15 minutes and let the other team know right there that the match was over. He did that in five or six matches. He took the top guy and would just crush him.
Ryan is the reason why we won. Without Ryan we would have had a shot (at a CIF title), but he put us over the top. He led this team. He deserves everything he is getting.
Kessler said the left-handed Cheung, who didn't miss a match all year, was not only a great leader, but a thoughtful one as well. Especially with the younger and less experienced players on the team. Ryan played with 15 different partners in doubles this year, Kessler said. At Laguna Beach, for example, I put him with a different partner in every match. And Ryan worked with and taught each how to play doubles better. He did that all year long. And he enjoyed it.
Cheung, known for his powerful serve and all-court game, said he enjoyed everything about his senior year with the Trojans. It was a year that he didn't have to compete in, according to Kessler. Cheung had already committed to play at UC Irvine even before his senior tennis season at Uni even started. He didn't have to go back to public school. Cheung was at University as a sophomore in 2007-08 and then was homeschooled in 2009.
He put a lot of pressure on himself coming here from being home-schooled last year,Kessler said. But he took it all on and he thrived.
Playing high school tennis is unbelievable, Cheung said. All the kids should play high school tennis. The atmosphere is great and you meet a lot of people. It is different, but it is fun. Competing with a team is way different than just competing for yourself. You play that much harder because you don't want to let down the team. You want to win for the team. Cheung will take the same winning and positive attitude to UC Irvine in the fall.
I am excited, he said. I just had my orientation last weekend. Everyone was really helpful. (Coach) Trevor (Kronemann) helped me with my classes. Everyone was there to help me. We also talked tennis and he told me that I would probably play singles and doubles. Our team is really deep so you never know. But it will be fun.
Cheung is looking forward to getting a chance to play some doubles with former Corona del Mar High standout Fabian Matthews. The duo won the doubles title at the Southern California Sectionals tournament a few years ago.
We have been talking about (playing together) since last semester, said Cheung, who is a two-time winner in doubles at the sectionals. That would be ideal. But he will always have a special place inside for the University program where he was part of CIF titles in 2008 and 2010.
It is an experience I will always remember, Cheung said. Something I would never change.