The OTR team consists of extremely talented individuals with impressive competitive backgrounds, as well as extensive international coaching experience.
OTR TENNIS ASIA LTD. ONLY HIRES INTERNATIONALLY QUALIFIED COACHES
Graeme Foster – Director of Tennis
Professional Coaching Qualifications
Tennis Coaches Australia (TCA) Advanced Coach
Former Tennis Director of Pacific Club, Kowloon
Former HK Davis Cup player
Australian Italia Cup Representative
World 35s Doubles R/U Germany 2004
HK National Singles and Doubles champion
Co-Founder of OTR tennis Asia Ltd.
2013-    Present  Babolat Asia Pacific Promoter
Graeme has an incredible professional coaching background; over 25 years experience teaching all levels of players; coach to many of hong Kong's and Australia's top juniors; coach of WTA player; National Touring team's coach; former HKSI coach.
His hobbies include Muay Thai, boxing,Rugby and Harley Davidsons.
Email: graeme@otrtennis.com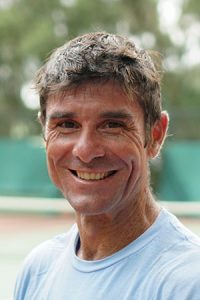 Adrian Montesinos – Programme Director
Professional Coaching Qualifications
Tennis Coaches Australia (TCA) Advanced Pro – level 2
NASM qualified fitness instructor
HK Davis Cup team player 2008
HK World 35s team player 2009
Winner Men's Doubles CRC Open – 2000/05/07; South China Open – 2005; National – 2001/07
Adrian has travelled all over the world as a competitor, as well as a coach to former WTA player. He has captured all 3 major doubles titles in Hong Kong.
His hobbies include touch rugby, Muay Thai, snowboarding.
Email: adrian@otrtennis.com
Chris O'Mara – Senior Tennis Professional
Chris is a passionate player and loves to compete, being a regular on the ITF Seniors tour with many Tournament wins all over the world.
His highest ranking is world number 4 in singles and number 1 in doubles.
Chris is a qualified elite AATC coach with experience teaching all levels of players.
Chris will be focusing on our development squads and ladies team coaching.

Steve Whitecross – Professional
Professional Coaching Qualification
Australian Tennis Professionals Advanced Coach
Head Coach at the Hoppers Crossing Tennis Centre in Victoria 1978-1994
Head Coach at the Mooloolaba Tennis Centre 1997-2006
Coach / Manager at Peregian Tennis Centre 2007-2009
Senior Tennis Pro 2010-2011 HK Cricket Club
ITF Seniors World Ranking # 14, 2010
Asian Seniors Winner 2009
Australian Finalist 2009. Silver Medal in World Championships Teams Event
Steve comes from a family of tennis players, and continues to compete in ITF Senior tour events to this day. His vast experience and his contagious energy has added something special to OTR's Team of Professionals.
His hobbies include AFL Footy, golf, beach, movies and rock music.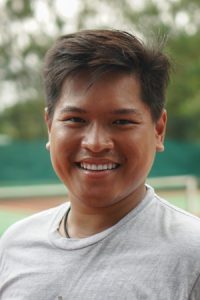 Kennex Abadia – Professional Chinese International School, Victoria Shanghai Academy Team coach
Professional Coaching Qualifications
Professional Tennis Registry (PTR) – Professional
Playing Coach at CHED (Commission on Higher Education) National Games
Varsity Team Captain of University of San Jose-Recoletos
Kennex is a former Junior ATF player and still competes in Hong Kong and in the Philippines. He comes from a family of competitive tennis players where playing and coaching is a passion. He has been coaching full time since completing his university degree in 2012.
His hobbies include music, gaming, scuba diving, reading and research, and photography. He is a avid car enthusiast.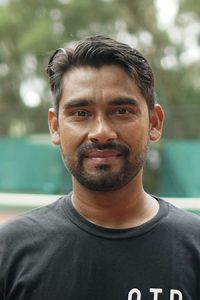 Vijay Kumar  – Head Professional HKIS Primary
Vijay is an experienced Professional from the beautiful country known for its colourful culture – India.
8 years of coaching experience specialising in juniors.
Professional Qualifications
ITF Level 1 New Delhi 2008
AITA India
RPT Registro Professional De Tennis 2015
AITA National workshop New Delhi 2009, 2011
ITF International Coaches Conference Bangkok, China

ITF Worldwide Coaches Conference by BNP Paribas, 2019 & 2021

Attended the It's My Game ll Virtual Conference by Professional Tennis Registry, 2021

World Tennis Conference by Global Professional Tennis Coach Association,2021 & 2022

Virtual Australian Open Grand Slam Coaches Conference, 2022
His hobbies including playing cricket, watching movies and music.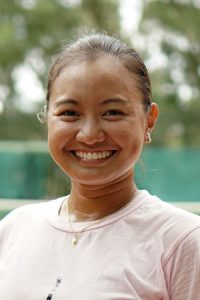 Nel Rudas – Professional
Coaching qualifications:
•    UK LTA Level 1
•    RPT Tennis Spain.
•    Bachelor of Sports Studies
Nel has represented the Philippines Federation Cup teams from 2015-2016.
She was a competitive junior on the ITF junior circuit with a world ranking in the top 500. Nel is looking forward to competing in local tournaments here in Hong Kong.
She has been working with junior players for 4 years now and her patience and enthusiasm is a contagious asset to OTR and the Manhattan.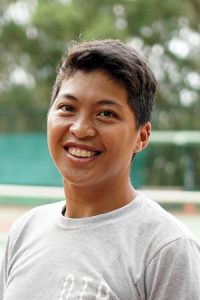 Edz Balanga – Professional HKIS Varsity Teams
Edz has been teaching in the Philippines and Spain with qualifications:
•    Professional International Coaches Institute
•    National Professional Europe RPT
•    Professional Spanish Tennis Federation
Edz has represented the Philippines in Federation Cup as well as competing in Europe and Asia. She continues to be  a top 3 player with many titles in both singles and doubles.
Edz will be coaching the HKIS Varsity teams as well as private lessons at HKIS Tai Tam.
Ronnie Doctrove – Professional
Professional Coaching Qualifications
ITF Certified Elementary Level Coach
Former Men's A league Captain for the prestigious LRC Club in Hong Kong, winning the league under his leadership.
Ronnie has over 15 years tennis coaching experience teaching all levels of players. He places great emphasis on the early development of solid stroke techniques and excellent footwork. Has lived in Hong Kong for many years and is the father of twin boys who advanced to the top level of tennis development in Hong Kong.
His hobbies include football (ex HK professional), basketball, movies and reading.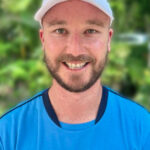 Ryan Callaghan – Head Professional
Qualifications:
ATPTCA level 2 Coach
Diploma Event Management
Nasm Qualified Fitness Coach
Ryan has competed with the best juniors in Australia, later playing College tennis in San Antonio, Texas.
Coaching experience expands all over the world with Australia, USA and now 10 years in Hong Kong.
Ryan
 caters for a wide range of player, whether you are looking to learn new tennis skills or just fine tuning your game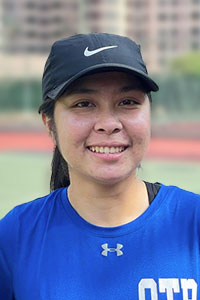 Rachelle De Guzman – Tennis Professional
Professional Coaching Qualifications:
ITF Play Tennis Course Graduate
Australian Tennis Professional Coaching Association (ATPCA) Graduate Pro Level 1
Bachelor of Arts in Sports Studies at DLSU-Manila.
Former Top 10 in Philippines
Rachelle is from the Philippines. She represented the De La Salle University-Manila Lawn Tennis Team for five years (2013-2017). Team captain for two consecutive years. During her UAAP days, she was announced as UAAP Season 76 Rookie of the Year and finished undefeated on her last two UAAP seasons.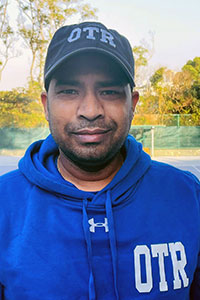 Rajander – Tennis Professional
Professional Coaching Qualifications:
RPT LEVEL 1
RPT LEVEL 2
RPT Mental Toughness Certificate
ASIAN Fitness Convention 2011 Certificate
GPTCA World Tennis Conference -2021
Rajander is an extremely experienced and Technical Professional from India. He has over 15 years experience with all age groups and is passionate for building players foundation focusing on early development & technique.
Professional Experience :
Worked at one of India's top Academies "Team Tennis" for more than 5 years as Senior Tennis Coach.
"BAI DONG Academy " Beijing, China for 2 years as a Technical Professional.
Worked in many prestigious schools in India.
Travelling coach to junior ITF players – Egypt, South Africa, Iran, Turkey, Thailand and Vietnam.
Career highlights :
Coach to some of India's finest –
Yuki Bhambri World no.-1 Jr.
Tahira Bhatti Asia no.-1
Jasmine Kaur Asia no.-3
Christopher Marquis ITF Men's World no.-1259
Sandeepti Singh Rao India no.-2 (U-14)
Lakshmi Gowda India no.11 (U-18) & ITF JUNIOR-490
Best Technical Coach Award AUSTRALIAN OPEN 2009
Raj is available for lessons at HKIS Tai Tam & Manhattan Residents Club. Please contact Rajtennisotr@gmail.com
Partner Catala Sport:

Julian Rodrigo – Tennis Professional
Tennis Coach at Academia Club Quilmes Villa Allende, Córdoba, Argentina, from January 2022 to present day.
Tennis Coach at Academia Cordoba Golf Club Villa Allende, Córdoba, Argentina, from February 2016 to December 2019.

Education:
Bachelor Degree in Physical Education Institution: Instituto Provincial de Educacion Fisica, Córdoba.
National & International Tennis Coach ITF.
ITF Academy 'ITF World Tennis Number: An Introduction' Online Course
Ethics For Tennis Coaching ITF World Tennis, Online Course
COVID-19 Back to Tennis Rules, TF Academy 'ITF World Tennis, Online Course
2021 Introduction to Statergies and Tactics" ITF World Tennis, Online Course
ITF Academy 'ITF World Tennis Number: An Introduction' Online Course
Understanding the ITF Junior Tennis Initiative (JTI)'ITF World Tennis, Online Course
ITF Academy 'ITF Coaching Advanced Players Course – Communication Skills' Online Course
ITF Academy 'Estrategia de Igualdad de Género (Strategies to Gender Equality)'
Experience as a Tennis Player: Juniors: Category under 12 : National Ranking: 18 Category under 14: National Ranking: 8 South American Ranking: 42
Category under 16: National Ranking: 10 South American ranking: 38 Important Tournaments: Regional Tournament( Grade 2/Grade 3) Champion category under 12/ sub 14/ sub16
National Tournaments (Grade 1) Category under 12, best results in final quarters Category under 14, best final results Category under 16,
Category under 16: South American Champion (cosat Grade 3)
Professional Tournaments: 3 Times part of the Main Draw Future M25 Champion First Category Tournament
Languages (English-Spanish), Football and sports in general. Reading,