OTR employs internationally qualified professionals in each of our centres in order to provide the highest quality instruction to our clients.
Junior Programme:
Spearheaded by new HKTC Head Coach Chris O'Mara, we will be changing our colour code system to the more internationally recognised ITF system.
To make things easier for you, we have outlined the conversion from our previous colour groups to the new system we will follow. This should help you find the appropriate groups to place your child in as well as helping you to enter the correct HKTA and OTR tournaments in the future:
OTR / ITF Colour code system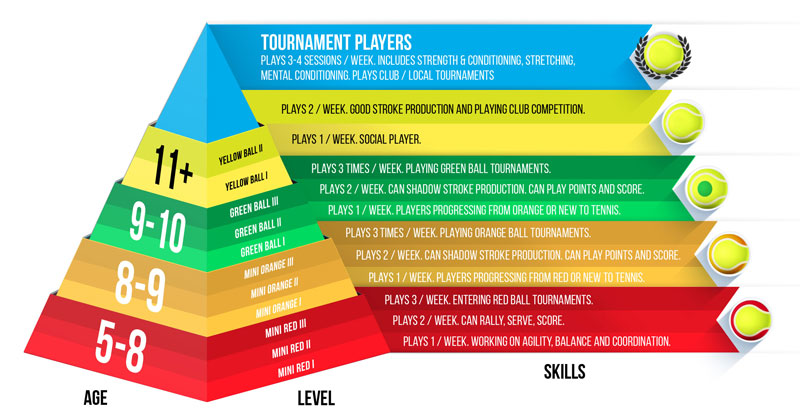 For HKTC Red 1, Orange, Green 1, Yellow advanced will be by invitation only
Trial classes will be held at HKTC – please contact Chris O' Mara
Our new Mini Red and Orange groups will have both level 1 (beginner) and level 2 (advanced) groups in the same class time so that players have the opportunity to continually progress.
Private lessons are available from 7 am till 10 pm except Monday to Friday between 4-7pm.
Our HKTC Ladies programme is one of the biggest in Hong Kong.
Ladies clinics run on Tuesday's, Wednesday's and Thursday's from 8-10am.
Sign ups are done directly through Adrian either via WhatsApp 97569843 or email: adrian@otrtennis.com.
Ladies team training or private lessons can also be arranged with any of our OTR professionals – subject to availability.
N.B. The above registration button will take you to Track My Tennis (TMT). Guidelines on how to register your child on and how to enroll him/her in HKTC/Invitational C group lessons at HKTC Wong Nai Chung.
Please use any browser except Internet Explorer because TMT won't work. If you have any difficulties please email Lille who's in charge of Track My Tennis at lille@trackmytennis.com. She's in the US so there's a 16 hours time difference.
At Track My Tennis, select the "Season/Session" to ie."Term 1 HKTC Aug 31-Nov 30,2015 ", here you will find all the HKTC/Invitational C group classes from Monday to Saturday held at 133 Wong Nai Chung Gap Road. After selecting your preferred group class/es, click "Continue to Select Students" here you need to register or log-in.
First time users, Please register to add your child(ren). You only have to register once.
Returning users, Please login to select your child(ren) and continue with your registration.
You need to register through OTR's website for you to create your own username and password, please write them down as you will need your username and password and will be using these whenever you log-in to enroll for group classes, upcoming events or camps.