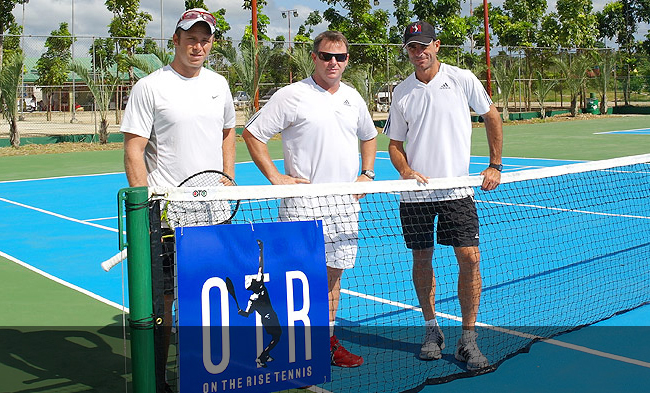 WE TAKE PRIDE IN OFFERING OUR CLIENTS WITH A WIDE VARIETY OF PROFESSIONALLY TAILORED SERVICES AND TEACH OUR STUDENTS TO WIN WITH CHARACTER AND LOSE WITH PRIDE.
OTR

 BACKGROUND:
OTR Tennis Asia Limited has been running since 2005. We started with 3 Directors, one venue and a vision. 12 years later, we operate out of 6 locations; we have 16 internationally qualified tennis professionals and 1 Strength and conditioning Coach.  Our vision has stayed constant.
OTR

 PHILOSOPHY:
Tennis, like life, gives us the opportunity to continually learn and grow. Whether facing adversity or humbling one's self in a moment of success, we are constantly challenged to understand our strengths and weaknesses throughout this journey of self-discovery.
We believe that this journey begins within, and we place a strong emphasis on developing character both on and off the court with a firm understanding that these character traits will inevitably allow them to reach their full potential as people and tennis players.
We adopt a process rather than result-orientated approach and we instil this concept into our training sessions from the ground up.
OTR

 ETHOS:
OTR strives to promote our passion for tennis through advanced and modern understandings of the game of tennis.  'We teach our students to win with character and lose with pride'.
OTR
 COACHES:
OTR employs coaches that are not only highly qualified but also passionate about the game of tennis. Coaches that understand people and can tailor each lesson and communicate with enthusiasm and knowledge in a positive and progressive way.
Our coaches will help students reach their individual goals. (…read more about our coaches here)