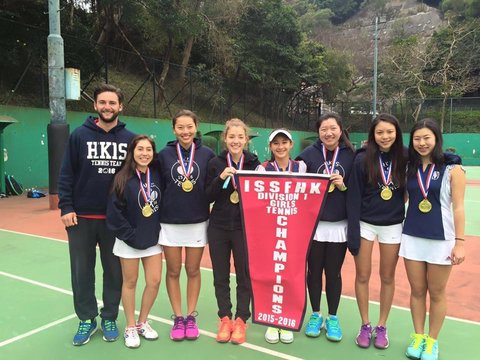 OTR is very proud to be associated with the prestigious Tennis team at HKIS.
Both coaches and players had some ups and downs through out the year but we managed to move forward and get through it .
This year proved to be successful once again for both teams .
Our Girls Team was captained by Jacinta Chen and Claudia Gabison
Our Boys Team was captained by Dhruv Maholtra and William Poma (and a big thank you to Anton Monaghan for stepping up when we needed the extra help)
The start of the season had us hosting CHINA CUP and after finally securing enough tennis courts only a few days prior to the start of the competition all ran smoothly .
Our girls varsity and junior varsity teams were both successful in holding onto the Champions trophy once again.
Our boys team was extremely strong , both varsity and junior varsity teams won their divisions without conceding a set.
So after a great start to the season I was lucky enough to travel on my first Apac competition to Gaungzhou in Oct .
Unfortunately both our boys and girls teams were short handed for this event. Both our num 1 players missed the event due to tournament commitments here in hk which I'm sure the other schools were very thankful for. Only 2 of our boys players were part of the Varsity team so I thought we would struggle compete at this level .
We had a few new players stepping up for the first time and they performed above my expectations which made me very proud of them .
Our girls team won the Team Competition
Our boys finished 2nd
In the individual competion our
Mixed pair consisting of Sofia Walzer and Shiv Maholtra finished with Bronze
Our Girls Doubles pair Kaitlan O'Sullivan and Justine tam won Gold
Our Boys Doubles pair Billy Duanmu and Vikram Mubayi won Gold . Their Gold medal match they took revenge on their SAS opponents who they had lost to only a few days earlier
Our Girls Singles Nicole Chu took bronze after a narrow defeat in her semi final against the eventual winner and Jacinta chen finished with silver .
Our boys singles Dhruv Maholtra finished 5th after losing 8-6 in a very tight quarter final match to the eventual winner and Anton monaghan finished with silver after a frustrating match which he nearly managed to win coming back from 7-2 down and losing 8-6.
It was a great experience for everyone involved both on the court and off (there was a lot bantar shared on the train home)
Our local competitons got everyone involved .
Both teams were back up in Div 1 and while some schools have a heavy recruiting program we still managed to be competitive .
We finished 3 rd in the girls and boys comptition.
Issfhk finished last week with our Girls defending last year crown crushing their opponents in the semi's and finals
Our boys once again were short handed and finished 3rd. Many thanks to William and anton who stepped off long haul flights and made their way straight to the courts to help the team.
So that's it for another year . We hope to be as competitive next year and bring back more trophies.
A special mention goes out to Jackie Tang. He is leaving us at the end of the year and will be part of the DIV 1 Columbia TennIs Team . His world junior ranking is currently 150 which is great considering he is a full time student . He has beaten players ranked inside the top 100 and recently made it through to the 2nd round of the Australain Open after winning through 3rounds of qualifying. He intends to compete at the remaining 3 grand slams this year so we wish him the very best.
Thank you,
Adrian Montesinos