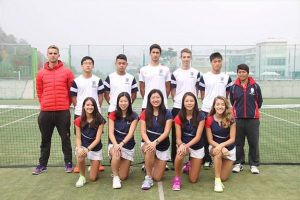 Congratulations to all the players who participated in this years APAC Tennis championships in Korea.
Arthur Chau won the boys individuals event having to play team mate Anton Monaghan in the semi finals, Anton went on to take 3rd place.
Nicole Chu won the girls individual event also having to play team mate Sabrina Woll in a very close semi final match.
Vikram Mubayi & Billy Duanmu and girls Jacinta Chen & Justine Tam won the doubles event.
In the mixed doubles Darren Yang and Katy O'Sullivan were Runner's Up narrowly losing the final 7/8.
I would like to thank all players and parents for their positive attitude, sportsmanship and team spirit. Thanks also to Coach Edz for her coaching this term.
GO DRAGONS!
See you on court
Rob Chambers -HKIS Head Coach