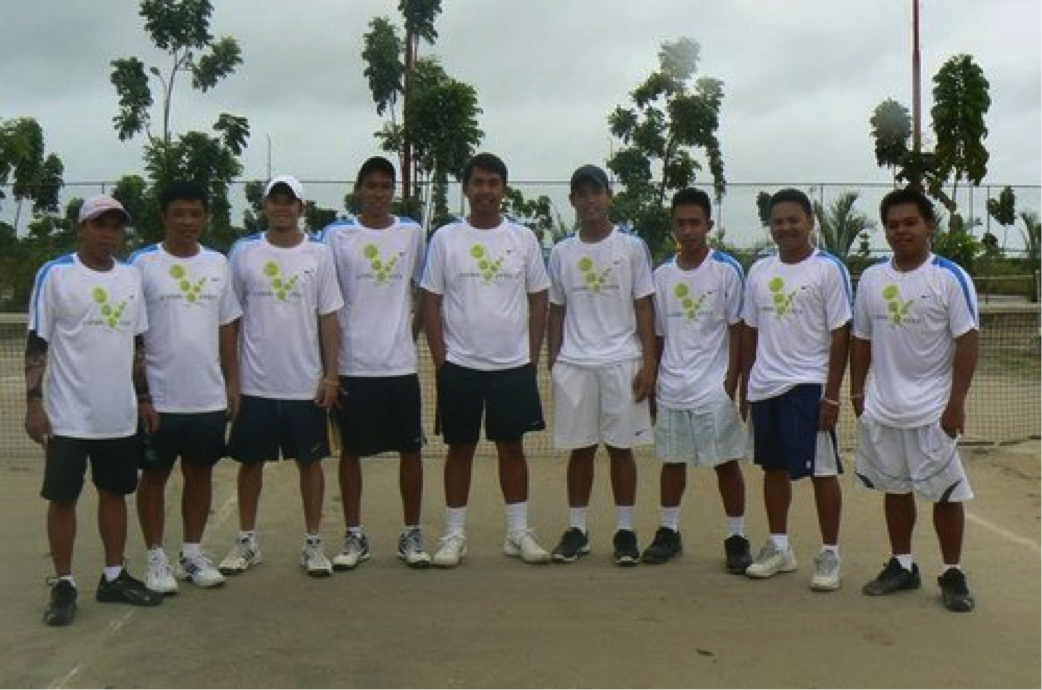 OTR Tennis Asia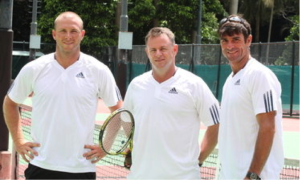 OTR Tennis Asia develop and implement the CITCI Tennis Program. Programs are available for beginners to Elite players. We specialize in tailored programs designed for each individuals specific needs.
Coaches of CITCI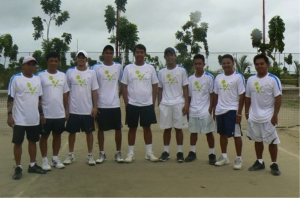 Warren Alivio
CITCI Programme Development Director – Warren Alivio
Warren has been playing tennis since age 6 competing and winning Junior Tournaments from 10/U to 18/U.
He was a High School & College Varsity Player of the University of The Visayas from 1992 to 2003.
Warren is enthusiastic to pass on his knowledge of the game to Cebu Juniors in his capacity of Programme Development Director at CITCI.
Jesston Anthony Espinosa
CITCI Professional – Jesston Anthony Espinosa
At 19 years of age, Jesston is the youngest of the CITCI coaching team. He started playing tennis at age 12 and was soon competing and winning on the local Junior circuit.
Jesston continues to compete and is a varsity player for the University of Visayas where he is studying for a degree in HRM.
He joined OTR Tennis Asia, Hong Kong in October 2010 as a hitting partner for squad players showing maturity beyond his years. He is determined to balance his studies with his eagerness to teach and compete in tennis.
Jesston's role at CITCI is player fitness and he currently puts the kids through a rigorous weekly routine.
In his free time, he likes playing basketball, computer games, watching tv and surfing the net.
Joselito Tenepre
CITCI Professional – Joselito Tenepre
Lito started playing tennis at age 13 competing in Junior Tournaments. His highest achievements were Champion Baseline Open Doubles in 2003 and Cebu Open Doubles in 2005.
Lito has coaching experience with PHILTA, USPTA and OTR Tennis Asia Limited in Hongkong. He has attained a qualification of Recreational Tennis Coach with the USPTA and is in charge of training intermediate and advanced players at CITCI.
He also holds a Bachelors degree in Science and Computer Science and enjoys basketball and volleyball.
Dwight Alivio
CITCI Professional – Dwight Alivio
Dwight holds a Bachelors degree in Science and Mechanical Engineering but instead has followed his passion to pursue a career in tennis.
He started playing tennis at age 12. His highest achievement at junior level was Silver medallist at both the Cebu Provincial Junior Tennis Meet and Cebu City Olympics. He was a varsity tennis player of Consolacion National High School and University of Visayas.
Dwight's coaching career began in 2008.He is a Certified Recreational Tennis Coach under the USPTA and has also undergone high level coaches training with OTR Tennis Asia in Hongkong. He trains the intermediate and advanced level players at CITCI.
Dwight is CITCI's Director of Facilities and Training Equipment.
He likes to play badminton, read and surf the net in his spare time.
Ernesto "Morris" Fiel
CITCI Professional – Ernesto "Morris" Fiel
Morris is currently handling the development of junior players between the age of 5-10 yrs.
He started playing tennis at age 6 competing at Junior Level tournaments at age 14 winning some local events. Morris's enthusiasm for the game brought him to coaching youngsters in 2009.
He has been fortunate to have trained with well known USTPA Tester,Ted Sayrahder.
Morris has recently coached with OTR Tennis Asia in Hong Kong and looks forward to helping kids fulfill their dreams of becoming the best player they can be .
In his spare time, Morrris enjoys playing basketball,soccer, surfing the internet and reading.
 Philippines
In October 2010, OTR Tennis Asia Ltd, Ken Salimbangon, Nestor Toledo and Rey Eschavez founded the Cebu International Tennis Centre Incorporated: CITCI. CITCI is a non-profit organization whose aims are to provide a safe environment for underprivileged children as well as promoting the spirit of tennis and nurturing future champions.
Our goals are clearly defined but also broad. We initially want to establish and develop a comprehensive tennis program for Cebu juniors, from the grass roots level all the way up to Professional level players. We hope we can take underprivileged kids off the streets of Cebu, and give them an opportunity to fulfill their dreams of becoming tennis players. We hope to offer players a platform from which they may perform from, or a stepping-stone towards acquiring scholarships into schools, through their tennis credentials.
We also hope to organize and run international ITF Tournaments in the future, thus becoming one of the most prestigious tennis Academy's in the Philippines.
Our venue is the CITCI at Laray, Consolacion Cebu. It is 40 minutes from Cebu Mactan Airport.
We currently have 8 courts – 4 shale and 4 hard courts. This is the only venue in Cebu with more than 4 courts.
To make CITCI an internationally recognized venue, a massive upgrade is required. With the help of recent donations and fundraising events, we have upgraded the four shale courts. Our next challenge will be to begin work on the four hard courts. We estimate they will be completed by October 2011 and will be Laykold cushioned hard courts, based on the Sony Ericsson Miami Open in the states.
As development continues, we will be building a new clubhouse, a gym, a centre court with seating, as well as accommodation for the growing numbers of players we anticipate to train at CITCI in the future. CITCI has just hosted the Milo Junior Series tournament and will be a regular venue on the junior circuit of the Philippines.
Currently, there are 8 highly motivated professionals at CITCI, whom are all very eager to improve their coaching ability and to pass on their knowledge of the game. Each coach has had experience with the USTPA coaching program, attending coaching workshops and also benefiting from OTR Tennis Asia Ltd. guidance.
OTR Professionals conduct regular coaching clinics for players and coaches of CITCI as well as tours to Cebu for Hong Kong based players.
The current program runs 3 times a week, and also on Saturdays and Sundays. Towards the later half of 2011, we will be introducing a full time, 7 days per week program.
The players are coached both individually as well as in squads, with a rigorous fitness program.
We believe we can help each individual progress to the best of their ability. Players will be taught the importance of responsibility, self-discipline, self-belief, inner motivation and the ability to cooperate with others.
All CITCI players will be challenged both on and off the court, mentally as well as physically.  They will learn to appreciate and respect the dedication required to excel in this truly wonderful sport.
Why train at the Cebu International Tennis Centre?
Highly professional, motivated and qualified international coaches.
Technical corrections, including video analysis of strokes during private lessons.
Tailored groups for kids of all ages and abilities.
A simple but specific colour system that allows kids to advance from one colour group to another colour group as they improve.
Continual match play program for all players
Tournament Venue, ITF, Milo Junior series at the only venue in Cebu with 8 tennis courts
Become a member of the Consolacion Tennis Club
Junior/Adult Challenge matches against other clubs in the Cebu and outlying islands
Fitness advisor – Adrian Montesinos (NASM certified) – outlining and overseeing the CITCI program
Discounted purchases of Babolat, Prince, Wilson and Head products through CITCI Pro Shop.
24 Hr Racquet re-stringing service.
Tournament advice, including rules and regulations and preparation for tournaments etc.
Opportunity to travel to represent CITCI in Junior Tournaments throughout the Philippines
Obtain CITCI Junior Scholarships.
Have the backing of a passionate and motivated team of parents and professionals.