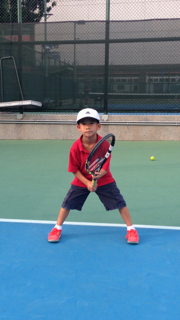 We are pleased to announce the first 10/U and 8/U HKIS Unisex Singles Event.
All HKIS Students are welcome to play this round robin event. Everyone will be guaranteed at least 3 matches. This is a great way for the kids to get a taste of tournament play and put in to practice all they have learned on the coaching court, and most of all – have fun!
Age is U/8 on December 6, U/10 on December 6.
Date December 6
Time 2-5.30pm
Venue RB Gym
Cost $250. To sign up please go to Enrol in classes/tournaments.
Coaches Vijay and Carolina will be supervising the tournament, helping  players score. Parents are very welcome to support their child from the sidelines. Winners and Runners Up will receive a medal.
For more information please email graeme@otrtennis.com