*HK International School Varsity and Junior Varsity teams make a clean sweep in this years China Cup held in Hong Kong defeating Shanghai American School and Beijing International School.
*This year will be the first year we will hold HKIS School Championships. A knockout tournament for MS and HS will determine the Boys and Girls School Singles Champions. The start of a tradition with winners having their names engraved on the perpetual trophy.HKIS Repulse Bay will also have an U/10 and U/8 Unisex singles Round Robin event last week of November. Look out for the entry forms on the website.
*GSIS and CIS School teams have now been selected. Training takes place weekly at the Gap in preparation for the HK domestic competition. CIS will this week train with Jason at JC Ferrero Academy Shenzhen. Look out for the Inter-school challenge matches to be held under lights at HKIS.
* Invitational training is underway with over 30 players in the program. Training is daily 4-6.30pm with Jason,Sanjay and Graeme at Aberdeen Tennis Centre. We have recently introduced matchplay on Sundays, which is proving beneficial. Players Noelle, Kate, Malhar,Sebastian,Arnold, Andrew and co have had outstanding tournament results. This years program will now be a certificate course, with players able to receive a graded certificate from 1-4 based on their dedication,improvement and tournament results.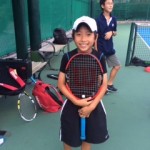 Andrew Peng- Winner U/9 HKTA Novice event.
* OTR Tournament Team- Players Noelle Wilbert,Natalie Cheng,Kate Zhang,Malhar Rajpal, Arnold Cheng,Yien Wu are training Sundays 9-11am at Aberdeen. This selected team will be competing in all junior HKTA events as well as tournament trips. The team is proudly sponsored by Babolat.
*HKTC groups are well under way with all groups full, we have seen a positive rise in the level of play in the groups and look forward to our group tournaments coming soon.
*CIS Little legends coached by Charity and Ronnie have seen a marked improvement with all kids receiving Beginner certificates last term. We are looking forward to the first junior tournament series for these groups in November.
* Coach Aike has started classes at Sai Kung- Classes are filling up. Look out for this terms Tournament end of November.
* Its Open tournament time. watch out for the Coaches participating in SCAA and CRC this year. Jason will now join Graeme and Adrian in the veterans category. Heres hoping Graeme and Adrian can do one better than last years Runner Up in the 35 doubles. Watch out for Rob who is now into the 2nd round of SCAA this week.